CHARLES BIBBS Contemporary Visual Artist Entrepreneur and Philanthropist
Internationally acclaimed artist Charles Bibbs, whose work is featured in museums, galleries, organizations, and homes of many collectors, displays a deep sense of Spirituality, Majesty, Dignity, Strength and Grace in his images, that is done in a combination of realistic and larger-than-life interpretations of contemporary subjects that are ethnically rooted.
Born in San Pedro, California, and raised in Harbor City, California, Bibbs managed to work an eight-hour job, and use his God-given talent in his spare time. But In 1991, Bibbs decided to leave his management position of 25 years, to form his own publishing and distribution company, B Graphics and Fine Arts, Inc. Today, Bibbs is one of the top-selling artists in the country, and his company has grown to be one of the leaders in the African American art print market.
Bibbs strongly believe that we are the "Keepers of our Culture," and as such, have spent much of his time serving on boards of museums and art organizations to support the art community. He has lectured, and conducted panels and workshops in major cities, including the Charles Wright African American Museum in Detroit, Urban League of Pittsburg and the Riverside Metropolitan Museum. He has a sincere passion for supporting the youth, and as such, has mentored, taught and conducted numerous workshops for young aspiring artists.
In his quest to preserve and develop the visual arts, Bibbs founded Images Magazine, the first national publication dedicated to contemporary African American art, Art 2000 Visual Arts Association, Art on Tour, The Inland Empire Music and Arts Foundation, co-founder of the Creative Quarantine, an artist and residence program. In his professional artist career, Bibbs owned 6 art galleries, including the popular 626 Art Gallery at Studio B, located in the historic art district of Los Angeles downtown.
Bibbs continues to receive recognition and appreciation not only for his distinctive style images, but for his philanthropic spirit. Through his art, he has supported numerous scholarship fundraisers, and youth programs, and made substantial contributions to organizations nationwide, including the NAACP, United Negro College Fund, Associated Black Charities, Morehouse College, Howard University, PNC Bank, Tom Joyner HBC Scholarship Foundation, National Urban League, Alpha Phi Alpha and Delta Sigma Theta.
Bibbs is profiled in many publications, Ebony Jet, Upscale, Ebony Male, just to name a few, and has interviewed on numerous radio and television programs including the Tavis Smiley Show, Steve Harvey Radio Show, and TV One Studio. His work has been shown on the sets of many popular television sitcoms and movies. In 2008, Bibbs created the "Black Madonna" image for the Fox Searchlight film, "The Secret Life Of Bees," and was the first visual artist to be hired to create for a Fox Searchlight film.
Bibbs' work has been featured in several exhibitions at museums, galleries, schools and other art venues, including the California African American Museum in Los Angeles, The Metropolitan Art Museum in Riverside, The Museum of African American Art, The National Black Arts Festival, New York International
Art Expo, and the Tokyo, Japan International Fine Art Show.
He is the recipient of numerous awards and honors including the "Entrepreneur Of The Year" Award, presented by the African American Chamber of Commerce, United Negro College Fund "Honoree Award," Hardy Brown Community Award, and has been presented the "Key to 6 cities within the United States.
Bibbs' original works are featured in the homes of many collectors, businesses and organizations all over the country. His partial list of collectors includes Frankie Beverly, Najee, Steve Harvey, Bernard Kinsey, Marc Brown, Earl Graves, Queen Latifah, Drs. Frank and Marsha Glover, Dr. And Mrs. Charles Mitchell, University of Arizona and Fox Searchlight Pictures.
"My most important goal is to make profound aesthetic statements that are ethnically rooted, and at the same time, arouse spiritual emotions within us"
Charles Bibbs
the man, the artist.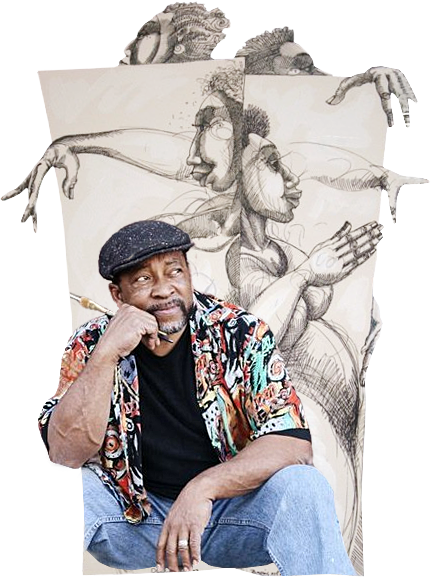 Awards & Recognitions
Proclamation Presented by Office of the Mayor, Baltimore, MD
State Senate Resolution – Presented by State Senator, Detroit, MI
Mayor's Proclamation – "Charles Bibbs Day" – Presented by Office of the Mayor, E. Cleaver, Kansas, MO.
Kellogg's Expert In Residence" – Battlecreek, MI
United Negro College Fund – Honoree Recognition – UNCF National Office, Atlanta, GA
"Recognition Award" – Presented by President of Borough of Manhattan, NY
"Community Recognition Award" – Presented by National Council of Negro Women
"Appreciation Service Award" – CA.Assembly, Secretary of State, Board of Supervisors, SB, CA
"Honorary Lifetime Membership" – Presented by New York Boys Choir, Harlem, NY
"Honorary Citizens Award" – Presented by Mayor Cleaver, Kansas City, MO
"Key To The City Award" – Presented by City Council of Carson, Carson, CA
Entreprenuer of the Year" Award – Presented by African Amer. Chamber of Commerce, Riverside, CA
"Entreprenuer of the Year" Award – Presented by NAACP, San Bernandino Chapter, San Bernandino, CA
County of Los Angeles, The Links, Inc. Art Award, Palo Verdes Chapter
California State Assembly, Certificate of Recognition Wilmer Amina Carter, 62nd Assembly District
Office of City Attorney R. Delgadillo, Certificate of Recognition, Los Angeles, Ca.
California Legislature Assembly, Certificate of Recognition Award, Riverside, CA
International Benny Award, Printer's Award "The Gift IV"
Central Partnership of Harlem, Recognition Award presented by President of Borough Manhattan
Major Exhibits
California African American Museum, Los Angeles, CA
Dunbar Museum, Los Angeles, CA
San Bernandino Art Museum, San Bernardino, CA
Norman Feldhym Museum, San Bernardino, CA
Mayor's Gallery Exhibition / Stamford, CT.
Howard University Blackburn Gallery, Washington DC
National Black Arts Festival, Atlanta, GA
Riverside Art Museum, Riverside, California
Edward Dean Museum,, San Bernandino
Museum of African American Art, Los Angeles, CA
Museum of African American Art, Detroit, MI
National Fine Art Show, New York, NY
Clark Atlanta Fine Art Show, Atlanta, GA
Tokyo International Fine Art Show, Tokyo, Japan
Media Coverage – Local & National
(Partial List)
Art In view – KCSB TV-3
Today In Atlanta 1996
"Against All Odds" San Bernandino Channel 3
NBC – Live. New York Art Expo
Inland Empire Live – San Bernandino, Ca
Urban Radio – WGZB Louisville, Kentucky
CBS TV 2 – Los Angeles, CA
Tavis Smiley Show – BET 1999
Ebony Male Magazine
Upscale Magazine
TV One Studio / Los Angeles
Steve Harvey / 100.3 FM The Beat / Radio Interview
Save The Date Publication, Los Angeles, CA
*Including other radio and TV interviews nationwide.